downpayment.gift is a great new way to create a registry for your down payment.
Use our simple tools to fund the down payment you need for your new home. It's easy to share with both friends and family.
Completely FREE. 100% of gifts go to your house down payment.
*We are the FIRST gift registry that works with partners to rebate credit card transaction fees.
When you are ready, we will connect you with a top mortgage professional to get the buying process started. No sales pressure. You're in control.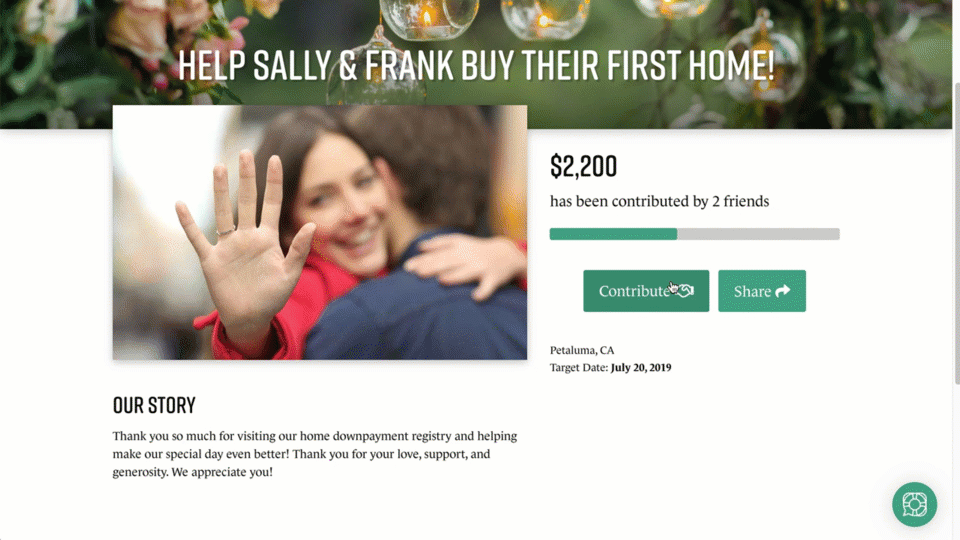 Accept gifts through 3 easy methods: Credit, Debit, Offline Pledges
Credit Cards: Guests may use all major credit cards; Visa, Mastercard, American Express.
Debit Cards: Guests may use all major debit cards.
Common Questions
Should I have a traditional gift registry and downpayment registry?
Generally we recommend focusing all your attention on one registry. If you have a complete traditional gift registry for "stuff" and then a house downpayment registry, it is too difficult for your friends and family to know which is most important to you,.
What does is cost? Are there fees? How do the rebates work? *
downpayment.gift is completely free to our users and gift donors. We do not charge fees to start a registry, receive contributions, or make a gift. The card processing fees from our partner Stripe are totaled at the end of the process and refunded via a closing cost credit on your home purchase or, if the Partner is unable to credit the fees, as a rebate from us.
How soon after we get engaged should we start the down payment registry?
We recommend starting the down payment registry right away. It is fast and simple and gets that out of the away. No temptation to think about department store gifts and other junk. It also gives you plenty of time to discuss and prepare with your future spouse about homeownership.
Recently Published Articles